Date:
Tue 19 Dec 2017
Matching Riddle:
Exeter Riddle 74
Riddle 74's commentary is once again by guest contributor James Paz at the University of Manchester. Take it away, James!
Riddle 74 is a shapeshifter. The speaker has been identified as everything from a made artefact to a living creature, a wonder of nature to a mythological being. Even the first two lines of the riddle are mind-bending. The riddling voice tells us that it was a fæmne geong. I've translated this neutrally as a "young girl" but the Old English noun fæmne could be rendered more specifically as "virgin" or "maiden." In the next half-line, the speaker says that it was also a feaxhar cwene, that is, a grey-haired, older woman. The speaker has aged before our eyes in the first line, and in the second line it suddenly shifts gender, as well. A rinc is a man, perhaps a warrior, and an ænlic rinc is a singular warrior who is "unlike" anything or anyone else, surpassingly noble, beautiful or elegant. The speaker claims that this changing of identity all occurred on ane tid. Since the Old English tid is a vague term for an indefinite period of time (an hour? a year? several years? a season? an age or era?), this phrase could be translated in a number of different ways: "at the same time" or "in a single hour" or "all at once" or even "once upon a time."
As if this weren't perplexing enough, the riddle then presents us with a further puzzle: the speaker is capable of flight (fleah mid fuglum) and it can swim (ond on flode swom) and walk on dry land (ond on foldan stop). This amphibious creature says that it was "dead" among the fish and yet, in the last half-line of the poem, it states that it hæfde ferþ cwicu. The most obvious rendering would be "I had a living spirit" but "I held" or even "I contained" a living spirit are equally plausible translations and, as the verb hæfde can be read in the pluperfect sense and the noun ferþ could also be grammatically plural, "I had held living spirits" is another possible interpretation. Is the speaker a living animal, then? Or an artefact that was formerly alive? Or maybe a container or vessel of some kind, something dead bearing something living?
Riddle 74 plays with the tension between transformation and continuity: transformation, because the speaker takes on multiple forms and roles; continuity, because it possesses a single voice and memory, and perhaps a single quickening spirit, depending on how we read the final half-line. The riddle either expands or contracts our perception of time, again depending on how we read the term tid: the metamorphoses from a young girl to a grey-haired woman might seem wondrous if it occurs overnight, but what if the riddle has condensed an entire season or age into a few lines of verse? As a poem, therefore, this riddle raises complex questions about identity. Is it possible to change age, gender and environment so many times and yet still be a nameable, classifiable creature? Can language capture such a multifaceted life experience with a single solution? Or do words ultimately fail to fix this amorphous, slippery speaker in its proper place?
This riddle has sent scholars of Old English away shaking their heads in confusion. Many have ventured an answer, but those answers differ wildly from one another. Over the years, solutions have included: barnacle goose, cuttlefish, ship's figurehead, oak and boat, quill pen, sea eagle, shadows, siren, soul, sun, swan and water. It would take a good deal of time (and patience!) to cover every solution in detail, so I'll only discuss some of the highlights (for a more comprehensive survey, see the Niles article under Suggested Reading below).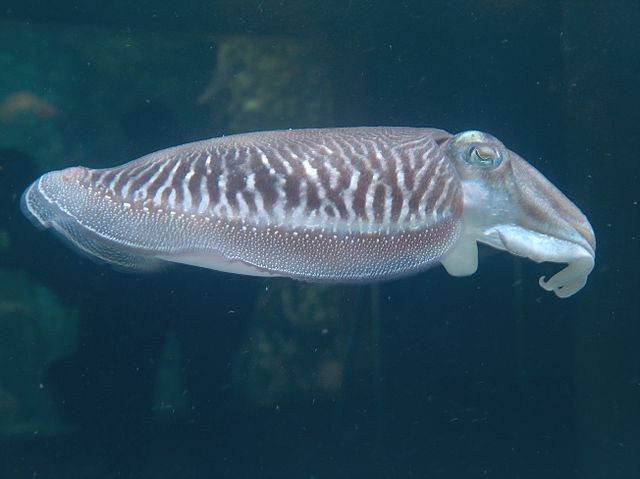 Squid or cuttlefish was one solution offered by earlier scholars such as Franz Dietrich in 1859. The Roman author, Pliny, had reported in his Natural History that squid could "fly" above the sea and the Anglo-Latin author, Aldhelm, penned an enigma about the luligo (squid or cuttlefish) which parallels some aspects of Riddle 74. In A. M. Juster's recent translation of Aldhelm's Latin Enigma 16 (pages 10-11), we read:
Nunc cernenda placent nostrae spectacula vitae;
Cum grege piscoso scrutor maris aequora squamis.
Cum volucrum turma quoque scando per aethera pennis,
Et tamen aethereo non possum vivere flatu.
(Seeing life's spectacles now entertains;
With fishy, scaly flocks, I search sea plains.
With mobs of birds I also rise through sky,
And yet I can't survive in breeze that's high.)
Here, the luligo searches the waters of the deep with fish and ascends through the air with birds, but an ability to change age and sex, and to walk on land as well as swim and fly, is not accounted for by Aldhelm's enigma. So this answer can't be deemed completely satisfactory.
Could it be a siren? This was the answer proposed by Frederick Tupper in 1903. The mythological siren is both aged and young, centuries old and yet with the face of a girl. It is not only a woman but sometimes a man.
Tupper claimed that at an early period of the Middle Ages, the Teutonic conception of a fish-woman met and mingled with the Graeco-Roman idea of a bird-maiden. The combined bird and fish aspects of this partly classical, partly medieval creature explain line 3 of the riddle ("I soared with the birds and swam in the water"). As for line 4 ("dove under the waves, dead among the fish") Tupper draws our attention to what "every student of myths" apparently knows: the sirens threw themselves into the sea and were transformed into rocks when Ulysses or the Argonauts had passed by in safety. Sceptics of this solution point to the peripheral place of the siren in early medieval lore, which makes this interpretation a little farfetched.
Quill pen was the solution of F. H. Whitman in 1968. This was the answer that first leapt into my mind when I read the riddle, due to some similarities with Riddle 51, which links the penna (feather) of the bird with the penna (quill pen) of the scribe. Feathers literally fly through air (and sometimes dive in water and walk the land) when attached to a living bird. The voyage is repeated in the scriptorium, where the writing pen "flies" as the scribe lifts the quill, dips it into the watery inkwell, and then the pen "steps" on the dry land of the parchment, leaving tracks on the page. However, a couple of phrases are harder to account for with the quill pen solution: why would a pen be described as a "singular warrior" and in what sense is it dead among the fish?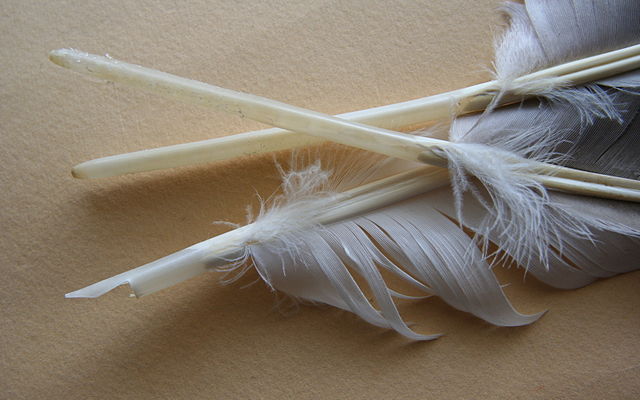 Ship's figurehead was suggested by Craig Williamson (pages 349-52). The speaker is to be imagined as carved in the form of young girl who gradually turns ashen and visibly "ages" as the wood becomes weathered over time, through exposure to the salty waves. As an artefact, the figurehead is "dead" but was made from once living wood. It charges the waves like a warrior. Critics of this solution cite a lack of archaeological evidence for figureheads in the shape of a girl: only those in the form of dragons and other beasts survive from the early medieval English and Viking periods.
Water or, more precisely, water in its various forms is an attractive solution, first proposed by Moritz Trautmann in 1894 and then refined in 1905 and 1915. Snow flies through the air, ice floats on water as an iceberg and, when it melts away and mingles with the sea, could be said to "die" among the fish, while streams and rivers flow across the land. The young girl is a stream, the grey-haired woman is an iceberg and the singular warrior is snow. Trautmann uses grammatical gender as a clue to solving the riddle. For instance, the Old English word for stream is burne, a feminine noun, while snaw is a masculine noun. Water itself doesn't have a living spirit but it might be said to "hold" or contain living sea creatures.
Another ingenious solution which relies, in part, on grammatical gender is the one offered by John D. Niles in 1998. For Niles, the speaker is an ac (oak tree) which has been cut down and made into a bat (boat). The tree changes from sapling to a hoary, old oak before it is turned into a warrior-like ship. This answer relies on us taking the oak tree as feminine and the boat as masculine, based on the fact that in Old English ac is a feminine noun, whereas bat is masculine. Niles argues that this reading is consistent with gender biases that were firmly entrenched in early medieval society, whereby trees are rooted to one spot in the same way that "women are traditionally associated with hearth and home" whereas ships are "daring rovers, as men have been known to be" (page 190). And yet, by having one speaker embody both of these gendered roles, the riddle could be said to question, rather than reinforce, the categories that have traditionally divided men from women, perhaps inviting the audience to rethink such biases.
Niles's reading is unsettled somewhat if the speaker is understood as having been a sapling (young girl) and old tree (grey-haired woman) and ship (warrior) all at the same time: on ane tid. One way out is to punctuate the riddle differently from modern convention, so that it reads along the lines of: "at a single time, / I soared with the birds and swam in the water, / dove under the waves, dead among the fish, /and stepped on land." Another way to resolve this problem is to take the term tid as indicating a long stretch of time. The first two lines of the riddle then become a bit like a wildlife documentary using time-lapse photography to compress the rhythms of nature into a few seconds.
There's still no consensus on the correct solution. As you can see, each proposal has potential flaws. If I had to choose one, then I'd probably opt for water. I find this one appealing because it expresses both endurance across time and a continuous shifting in form. It's also a pleasingly "fluid" solution. What I mean by this is that the solution is not simply "water." It is "water" and then "ice" and then "snow" and then "water" again. Just as we attempt to freeze the shapeshifting speaker with a spoken word, the warmth of our breath causes it to crack and melt once more, changing its form and function as the hydrologic cycle goes ever on and on.
Riddle 74 is therefore a perfect illustration of how things always exceed our names for them – and of how riddles always exceed their solutions.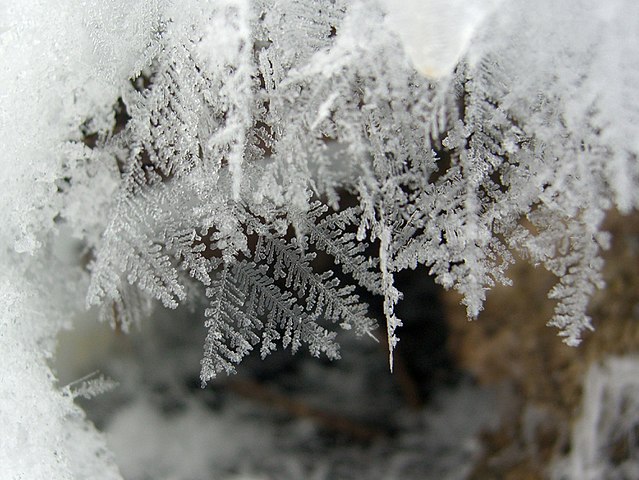 Notes:
References and Suggested Reading
Dietrich, Franz Eduard. "Die Räthsel des Exeterbuchs: Würdigung, Lösung und Herstellung." ZfdA, vol. 11 (1859), pages 448-90.
Erhardt-Siebold, Erika von. "The Anglo-Saxon Riddle 74 and Empedokles' Fragment 117." Medium Ævum, vol. 15 (1946), pages 48-54.
Juster, A. M., trans. Saint Aldhelm's Riddles. Toronto: University of Toronto Press, 2015.
Klein, Thomas. "Of Water and the Spirit: Metaphorical Focus in Exeter Book Riddle 74." Review of English Studies, vol. 66, issue 273 (2014), pages 1-19.
Niles, John D. "Exeter Book Riddle 74 and the Play of the Text." Anglo-Saxon England, vol. 27 (1998), pages 169-207.
Paz, James. Nonhuman Voices in Anglo-Saxon Literature and Material Culture. Manchester: Manchester University Press, 2017, pages 78-83.
Salvador Bello, Mercedes. "Direct and Indirect Clues: Exeter Riddle no. 74 Reconsidered." Neuphilologische Mitteilungen, vol. 99 (1998), pages 17-29.
Trautmann, Moritz. "Die Auflösungen der altenglischen Rätsel." Beiblatt zur Anglia, vol. 5 (1894), pages 46-51.
Tupper, Frederick. "Originals and Analogues of the Exeter Book Riddles." Modern Language Notes, vol. 18 (1903), pages 97-106.
Whitman, F. H. "OE Riddle 74." English Language Notes, vol. 6 (1968), pages 1-5.
Williamson, Craig, ed. and trans. The Old English Riddles of the Exeter Book. Chapel Hill: University of North Carolina Press, 1977, pages 349-52.
Tags:
anglo saxon
exeter book
riddles
old english
solutions
riddle 74
james paz
Related Posts:
Commentary for Exeter Riddle 51